HSE
Poetry Ireland
Saolta Arts
Saolta University Health Care Group
Arts + Health Co-ordinators Ireland
Healthy Ireland
In hospital, in my experience, people move quickly and lightly between moods. I thought, then, that I would choose four very different poems, with this in common: each of the poems offers a concentrated experience, a moment of great attention to the world. Each is a pleasure to read and speak, to dwell on, to take heart from, and my hope is that as the reader's moods change, one or other of the poems will speak to that mood. And this, too: each poem offers a moment when the reader's mind can fly free of the bed, the ward, the walls of the institution.
— Theo Dorgan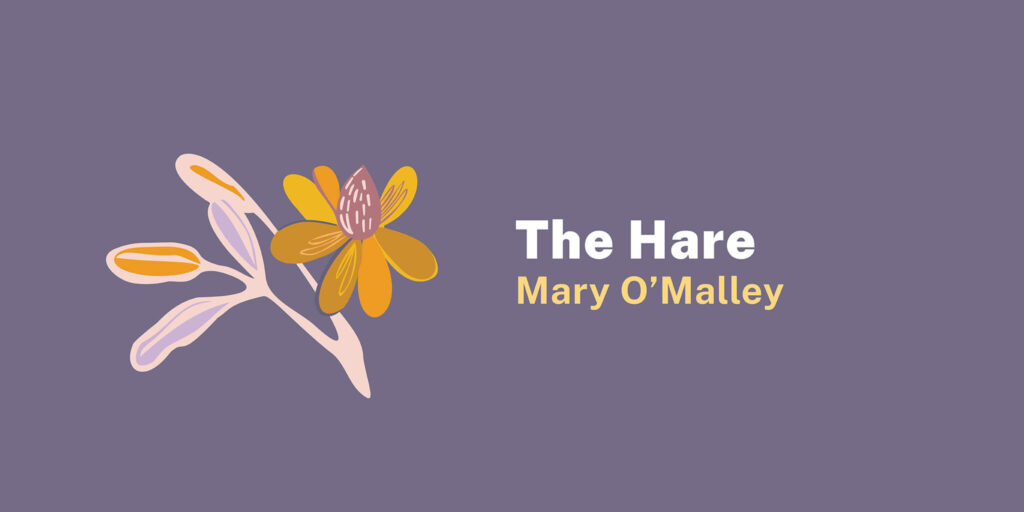 The Hare
By Mary O'Malley
Hedge School
By Pat Boran
Unlegendary Heroes
By Mary O'Donnell
The Promised Garden
By Theo Dorgan
'Menu of Poems' is a project of Arts and Health Co-ordinators Ireland, managed and produced by Saolta Arts.
Please email your comments to: saoltaarts@hse.ie
For information on Poetry Day Ireland visit https://www.poetryday.ie/
Download Menu of Poems and the Menu of Poems poster
Celebrating Poetry Day Ireland, Menu of Poems has served a helping of poetry on the hospital meal trays of Ireland since its conception in 2009. Each year, ten thousand copies of a short anthology of poetry are distributed throughout Irish hospital wards, waiting rooms and other healthcare contexts for patients, visitors and staff to enjoy. A project for Arts and Health Co-ordinators Ireland, we are currently the producer for Menu of Poems. Previous poets include, Naomi Shihab Nye, Colette Bryce, Yrsa Daley-Ward, Michael Coady, Ailbhe Darcy and Rita Ann Higgins.
Menu of Poems is a joint initiative between Arts for Health Partnership Programme, West Cork; Arts and Health Programme at Tallaght University Hospital, Clare, Limerick and North Tipperary Community Healthcare; Cork Kerry Community Healthcare; Galway, Mayo Roscommon Community Health Organisation; Saolta Arts and Saolta University Health Care Group incorporating University Hospital Galway, Merlin Park University Hospital, Mayo University Hospital, Portiuncula University Hospital, Roscommon University Hospital, Sligo University Hospital and Letterkenny University Hospital; Kildare County Council Arts and Health Programme; Naas General Hospital Arts Committee; MISA Creative Life at St. James's Hospital; St Luke's Radiation Oncology Network in Dublin; St. Vincent's University Hospital; University Limerick Hospitals Group incorporating University Hospital Limerick, Limerick Maternity Hospital, Ennis Hospital, Nenagh Hospital and Croom Hospital; Waterford Healing Arts; and West Cork Mental Health Services Arts and Health Programme.
Theo Dorgan is a poet, and also a non-fiction prose writer, novelist, editor, documentary screenwriter, essayist, librettist and translator. Among his recent publications are: Jason and the Argonauts (2014), a libretto commissioned by the Royal Albert Hall; Liberty Walks Naked (2015) and Barefoot Souls (2015) translations from the French of the Syrian poet Maram al-Masri; Foundation Stone: Towards a Constitution for a 21st Century Republic (2013, essays, editor) and the novel Making Way (2013). His most recent collections of poems are Nine Bright Shiners — awarded the Irish Times/Poetry Now Prize for best collection in 2015 — and Orpheus, published in 2018, both from Dedalus Press. His translations of Lorca's Romancero Gitano into Irish, Bailéid Giofógacha, was published by Coiscéim, Dublin in 2019. He is a member of Aosdána.
Arts and Health Co-ordinators Ireland is an all-Ireland support network of professionals who are responsible for managing arts and health initiatives. Formed in 2003, AHCI aims to build capacity and maximise resources for its membership, who work in the Arts and Health Sector throughout Ireland, North and South. The network members co-ordinate a range of arts and health activities, including environmental enhancement, visual art, sculpture, performance, participatory and collaborative arts practice, professional development for artists and staff, artist residencies, health promotion and arts and health research.
Menu of Poems 2023 Photo Credit: Andrew Downes.